3 – 10 of June 2019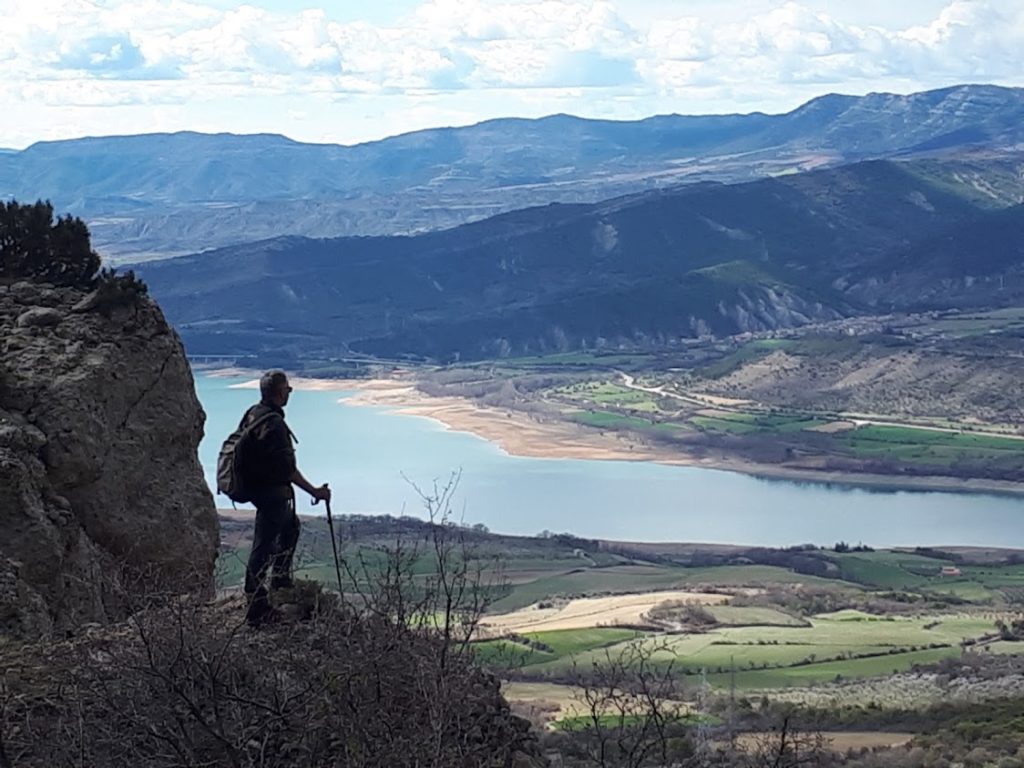 These days full of yoga, meditation and hikes in the wonderful natural environment of the Spanish Catalan Pyrenees are a caress for the senses and nourishment for heart and soul.
This week we combine yoga and meditation with mindful walking. We will invite all the senses to be present. This way you can in a more subtle way be aware of this beautiful nature, with her rough mountains, a long time ago worn away canyons and white waters.
Every day starts in silence with yoga and meditation. Breakfast will also be in a joyful silence. We'll make our lunch package and then we're off. Most of the time we will hike the old trails that connect de villages of the Pla de Corts, we'll walk through the beautiful canyon of the Congost de Collegats and through the valley of the Noguera Pallaresa, the lifeblood of this region. Most of the time the paths are small, with or without loose stones. Quite flat parts will be alternated by steeper ones. All hikes are feasible for everyone with a reasonable basic physical condition. Depending on the weather conditions, we could have to change the program.
After the hike we will relax with gentle yoga. Then you'll have some time on your own, to rest, to read, to do what you feel needed. At the end of the afternoon we'll gather to enjoy a workshop.
After dinner there will be time for sharing before we'll close the day with meditation. From the stillness that will grow inside of us we will enter the night in silence. We will practice silence till after breakfast. This way we can stay closer connected to the centre of our being and our innate stillness.
Friday afternoon is free time.
When: 3 – 10 of June (8 days)
Price: 965 Euro (double room)
Additional charge for a single room will be 175 Euro.
Participants: 8 – 10
For Whom: Everyone with experience or interest in yoga and with a reasonable basic physical condition.
You're welcome on Monday the 3rd of June from 16.00 hours on. At 18.00 o'clock we'll open the retreat. On Monday 10th of June there will be a last yoga session for whom doesn't have to leave early. After breakfast there will be time to pack and say goodbye.
Daily rhythm
07.30 h. start of a new day (infusion and fruits)
08.30 h. yoga/meditation
10.15 h. silent breakfast
11.00 h. hike, followed by relaxing yoga
17.30 h. workshop
19.15 h. dinner
21.00 h. sharing and meditation
22.00 h. days closing
23.00 h. lights go out
Feel free to skip sessions. A retreat is intensive and sometimes you might need some time for you, to sleep, write or process what has emerged.
Yoga/Meditation
We have a background in Raja Yoga, a classical and complete form of yoga. There will be guided meditations, but we'll also meditate in silence. In the morning sessions yogāsanas will aim at waking up, building a right alignment and developing strength and flexibility. During the walks we will also practise yogāsanas and meditation in nature, to reconnect and find healing. After every hike we'll have a relaxing yoga session. Every session knows an equilibrium between activity and relaxation to be able to enter into the balanced and peaceful state of sattva. Heartfulness, a combination of mindfulness and compassion, forms the basis in all we do.
Hiking
The different hikes give us the possibility to discover these beautiful surroundings. The ground of the middle mountains, with an altitude of 500 – 1500 m, is diverse, most of the time irregular and covered with stones. This asks for a concentrated attention on how and where to place our feet. An excellent possibility to practice mindful walking. We will walk about 3 – 3,5 hours a day.
Workshops
In the workshops we will dive deeper into the practice of yoga in our daily life. We'll dance meditatively, explore our chakras through dance and we'll let ourselves be brought to deep relaxation by Tibetan Singing Bowls.
Accommodation
We will be staying in Casa Vilanova Pujol, a Casa Rural in a small mountain village at 836 m of altitude. Casa Vilanova is a 16th century farmhouse, provided with all modern comfort. There are double rooms with individual beds. De rooms are cosy and spacious and each one has its own bathroom. The house is still part of the farm where cows walk around freely and are held in an ecological way to provide milk.
Meals
All meals are vegetarian and made out of local, mostly organic products.
Included
– 7 nights in a double room
– all meals, fruits, snacks, water and herbal teas
– 3 sessions of yoga/meditation and 1 workshop a day, a total of 4 hours
– guided hikes with yoga and meditation in nature
– usage of yoga mats, meditation cushions, meditation bancs, blankets, paper and colouring pencils
Excluded
– travelling to Pujol
– travel insurance
– cancellation insurance
What to take with you
Comfortable clothes for yoga, a shawl, warm clothes, warm socks and slippers, hiking-wear, good hiking shoes or boots, rainwear, daypack, sunglasses, sunscreening product, hat, drinking bottle, lunchbox. Perhaps a pen and notebook.
We advise you to take walking poles with you. They relieve the pressure on all joints and help you walk up straight which relieves pain in neck and back.
Registration
Registration is possible by filling in the registration form on this webpage. After we receive your downpayment your place will be reserved and we'll send you a confirmation.
Terms of Payment
At the moment of registration we ask you to make a downpayment of 193 Euro to La CaixaBank ES98 2100 0043 9302 0030 1568 of M.A.H. Buijs indicating Yogaretreat June and your name. A month before the start of the retreat the rest of the payment, being 722 Euro, should be paid.
Cancellation policy
Should you for any valid reason not be able to attend the retreat, our policy of cancellation applies. You can read them in our Algemene Voorwaarden. We suggest you arrange a travel insurance and a cancellation insurance at the moment of registration.
The retreat will go through with a minimum of 6 participants. If 20 days before the start of the retreat (14 may) we don't have 6 participants, we have the right to cancel the retreat. In which case you will receive back the 100% of your payment. As soon as we have 6 persons registrated, we will inform you.
Travelling to Pujol
You can travel to Pujol in different ways. Flying to Toulouse Blagnac Airport or to Barcelona El Prat de Llobegrat Airport followed by a 3 – 4 hours drive to Pujol by rented car. We could help in organising the sharing of cars. From Barcelona it's also possible to take the train or bus. We can pick you up at the trainstation in La Pobla de Segur or at the bus stop in Gerri de la Sal. Feel free to ask us to help you with your itinerary, especially when you travel by train or bus.